Virtual School Games is here!
I am pleased to announce that we have entered into the 'Virtual School Games' where you can compete against children in the school, local schoos and even national! Every Monday I will email and post on here the weeks challenge. Then, you simply follow the link, watch the videos to get an idea of how to do the challenge and practise, practise, practise. When you are ready, record your score and email it to me (hawks@ascotheathprimary.school). Anyone and everyone can take part but if you want your score to be entered, make sure your entry is sent to me by every Friday at 3pm. Pictures very welcome!
It is great to see you all in action and enjoying the sports challenges. Keep the pictures coming and with your permission I will post them on here.
Last week
A great turnout for last weeks tennis challenge. Around 30 competitors giving it a go and representing Ascot Heath Primary. A big thank you again for sending them in, you all did a fantastic job. We managed to send in one year 1/2 team, two year 3/4 teams and one year 5/6 team. Year 3/4 got third place for the first competition and this weeks local schools results will be published later this week for last weeks competition.
Local Schools Results
The results are in for last week's tennis challenge! Year 1/2 team came in 2nd place and the year 5/6 team came in 3rd place! A huge well done to everyone who got involved. Lets keep it going on this winning streak for this week's Handball challenge.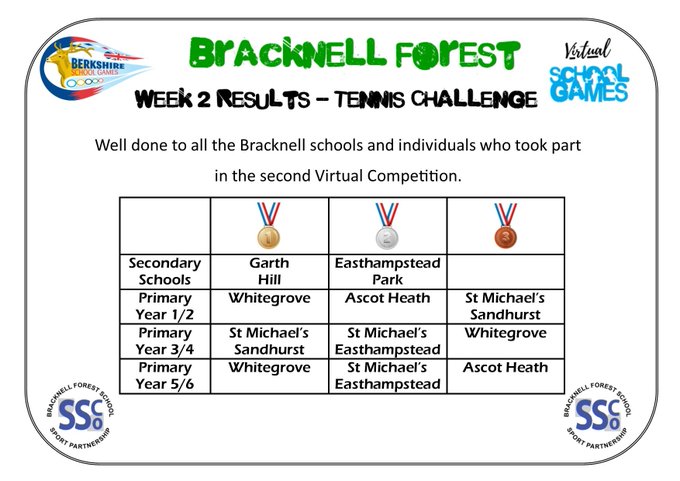 Special mentions
I try not to mention people more than once to celebrate lots of successful scores.
Stand Out Performance - KS1: Shiv - highest 3 scores in KS1 (103 combined) - KS2: Freddie - highest 3 scores in KS2 (56 combined)
Baseline Dash - KS1: Shazayn (39) & Shiv (26) - Yr 3/4: Callum (23) & Emily (22): Yr 5/6: Freddie & Tabitha (22)
Egg & Spoon - KS1: Robyn (21) & Stanley (19) - Yr 3/4: Jake (11) & Molly (8) - Yr 5/6: Natalie (11) & Evie, Tabitha, Maya and Stephanie (8)
Championship Point -KS1: Fraser (15) & Archie and Wilbur (8) - Yr 3/4: Maeve (9) & Charlotte (6) - Yr 5/6: William (10) & Simran (11)
This Week
Handball
Check out the fun challenges for handball this week at https://getberkshireactive.org/uploads/virtual-scho
ol-games-activity-card-handball-17.pdf . Watch the videos for tips on how to do them to your best ability and then, practise, practise, practise. Remember KS1 are expected to do level 1 and KS2 are expected to do level 2 but feel free to have a go at them all for the fun of it.
Do not worry these tasks are very easy to do at home and you do not need any sport specific equipment.
Once you are ready, record your best scores and send them to me. It would also be great to get lots of pictures of you guys in action to update the slideshow on the website. All scores need to be sent to me by 3pm on the 29th May so you have the whole of half term to have a go.
You can send me your scores by;
Email - hawks@ascotheathprimary.school
Guestbook comment below
(remember to put your first name and class name e.g. Mr Somers (Hawks).)
Teams
FYI - As the results come in, I put the results into teams depending on your year group (Yr EYFS/1/2, yr 3/4, yr 5/6. These teams are of 6 and have a minimum of 2 boys and 2 girls. If you would like to choose your own team and have a team with your friends, you can organise it yourselves and send me 6 people's results all together. If not I will carry on organising teams as the scores come in.
Looking forward to some of your fab scores and maybe finishing 1st, 2nd or 3rd again.
Good luck!
Comments (0)
There are currently no comments.