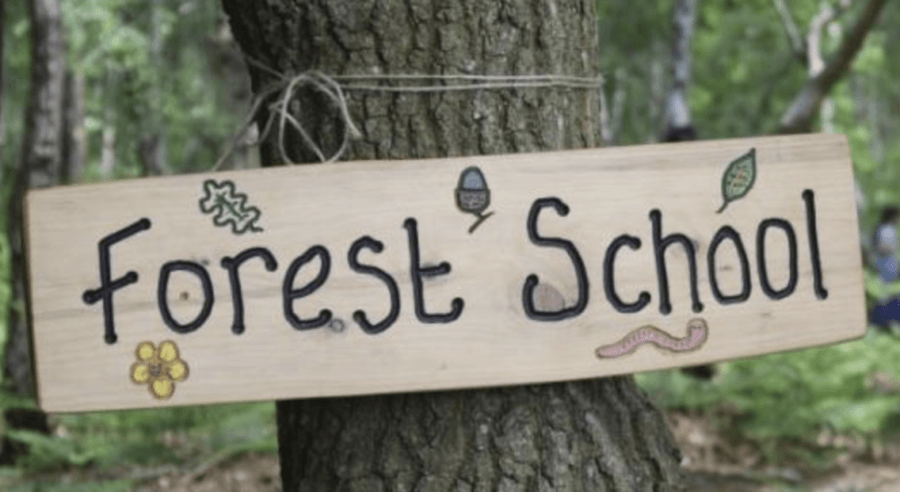 Autumn Term 2020
Reception children have been busy this term trying out different activities at our first Forest School sessions.
We started off the term looking for signs of autumn and collected autumn treasures around the school grounds, which we used to make our own sticky boards. We looked at books and charts to find out the names of the things we had found and were amazed at the huge range of colours. We tried matching the different objects to paint swatches and came up with new colour names for the autumn leaves such as copper blush, orange daze, ruby fountain and Moroccan flame!
The children had fun singing 'We're going on a leaf hunt' and kicking and raking up bucketfuls of leaves, which were then used to make leaf mandalas on the playground. We also had fun making leaf creatures and leaf crowns and the children became kings and queens of the wild garden! We found out that we can preserve the beautiful colours of autumn leaves by soaking them in glycerine and we were then able to use them to make leaf bunting to decorate the eco hut.
We were lucky enough to have some bulbs donated to us, and so we have weeded some of the flower beds and planted some bulbs in the wild garden, hoping they will make an appearance in the spring. We also added to our 'Bugingham Palace' bug house and raked up leaves into piles for animals to rest in over the long winter months ahead.
One morning, the children were excited to discover that some fairies and elves had moved into the wild garden and there was a letter asking them to help them build winter homes. We talked about the materials they might use and how we might construct something that is sturdy and waterproof. The children came up with some fantastic house designs, some even created gardens to go with them.
The final session of the term was spent following a Christmas elf trail laid by the Christmas elves to thank the children for building their cosy winter homes. The trail led us to a feast of hot chocolate and biscuits.
Thank you to everyone who has sent in donations for the new Forest School, they have been very much appreciated and will be a great help in enhancing the children's outdoor learning.
Have a very merry Christmas and see you all in the new year!