Ascot Heath Forest School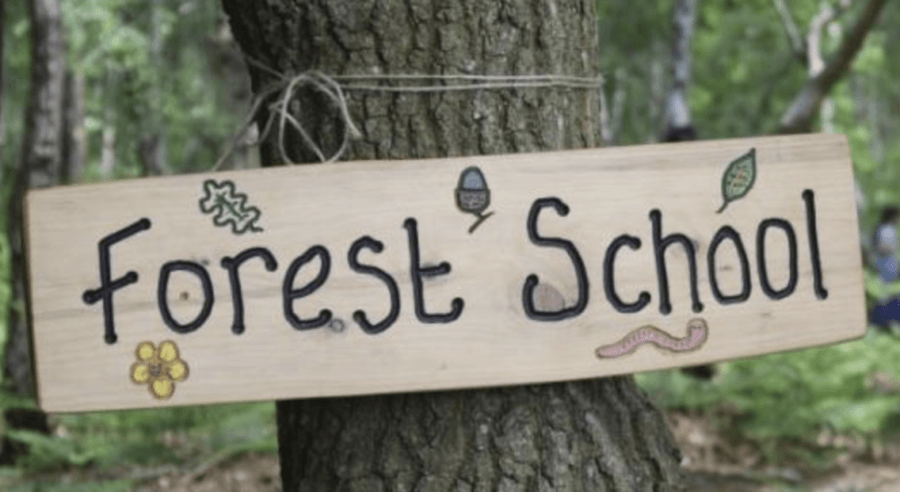 Spring Term 2023
We have had fun at Forest school this term with rain, frost, ice and snow being the order of the day!
At the beginning of the term, we took advantage of the colder weather and made ice decorations, which we left to freeze overnight and then hung on the trees, and we enjoyed mugs of hot chocolate by the fire to warm us up on chilly days.
We have been bird spotting and getting to know the names of different birds that we see in and around school. We took part in the RSPB Big Schools' Birdwatch and received a certificate for taking part.
We made our own nature binoculars and had a go at building birds' nests – some of them even passed the 'nest' test and were able to hold a real egg! We also made bird feeders and hung them around the wild garden and we learnt to identify different bird feathers.
February's activities were inspired by Chinese New Year celebrations, Pancake day and Valentine's day. The children participated in some Chinese animal forest yoga and they tried their hand at writing Chinese characters with mud paint. We made heart shaped wands from willow and other natural materials and made love potions and 'mud' cakes and 'mud' chocolates in the mud kitchen. The children also whipped up some nature pancakes, which looked delicious when decorated with leaves and petals!
On World Book Day, children had a go at making their own stick man and were able to recreate the story of 'The Tiger Who Came to Tea', albeit with a fox instead of a tiger! We made a reading den in the garden and some children enjoyed time reading in the fresh air whilst others chose to make porridge for the three bears in the mud kitchen.
The children decorated pots and planted bulbs to take home as a gift for Mother's day. Hopefully, you will have a Peacock Orchid or an Allium blooming very soon.
Over the past couple of weeks, we have been looking for signs of spring and have noticed that the bulbs we planted in the autumn term are now starting to appear and bloom. We have also been looking for clues to see which animals have visited the wild garden by identifying and tracking their footprints in patches of sand. So far, we have found bird, cat and fox footprints.
Our last session before Easter has included an Easter hunt, an 'Easter mud kitchen bake off' with muddy hot cross bun making and Easter crafts using natural materials.
Autumn Term 2022
Reception children have been busy trying out different activities at our first Forest School sessions this term.
At the beginning of the term, the children were introduced to the important 'No Pick, No Lick' rule, as well as other ways to look after themselves and each other when out in the woods
We talked about the change in seasons, from summer to autumn, and collected lots of natural treasures to use for our arts and crafts activities and to set up our own autumn shop.
The children have learnt to use different tools safely – rakes for clearing the paths, mallets for banging nails and golf tees into pumpkins and softwood hand drills to make conker, acorn and cone creatures and hanging decorations.
We have planted bulbs ready for spring and found out that there is an amazing variety of different pumpkins and squash with unusual names such as Baby Bear, Cinderella, Casper White and Jack Be Little!
We have enjoyed looking for and learning facts about minibeasts that live in the garden and matching the fallen leaves to those on our ID charts. We have also had fun identifying some of the fungi in and around the school grounds.
We talked about animals that hibernate in the winter months and some of the children helped to refurbish our hedgehog house and make a shelter for hedgehogs using sticks and leaves. They then left some food outside in the hope that a passing hedgehog decides to reside there for the winter months!
We have had some very wet sessions this term but the children have been very keen to collect all the water from around the Forest in pots and pans and anything else they could find in the mud kitchen.
We ended the term thinking about Christmas and made our own environmentally friendly reindeer food to sprinkle on the lawn on Christmas eve.
Have a fantastic Christmas everyone and see you in the new year!